DigiMarCon London 2023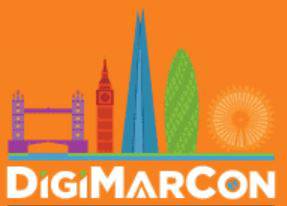 The Premier Digital Marketing, Media and Advertising Conference & Exhibition in London
DigiMarCon London 2023 is your chance to …
Hear from some of the most audacious and thought-provoking speakers in the digital marketing, media and advertising industry
Gain insight into emerging strategies, the latest innovative technologies, and best practices to move your business to the next level
Network with thought leaders, collaborate with your peers and build your professional network.
The 4th annual DigiMarCon London, the Premier Digital Marketing, Media and Advertising Conference & Exhibition in London returns August 31st to August 31st, 2023 to the luxurious 5-star Sofitel London Heathrow Hotel which is connected directly to Terminal 5 of London Heathrow Airport, making it conveniently accessible from across the United Kingdom. Join your peers in-person or online for 2 days jam packed with digital marketing best practices, latest trends, practical solutions, strategy and networking, also check out the next generation of technology & innovation; Internet, Mobile, AdTech, MarTech & SaaS Technology.
Be a part of DigiMarCon London 2023 and discover how to thrive and succeed as a marketer in a rapidly evolving digital world. Top keynotes, case studies, strategy sessions, networking and more! See why people keep coming back year after year to this must-attend event! Register and secure your seat today.
This year's edition will feature topics such as:
Account-Based Marketing
Behavioral & Neuromarketing
Content Marketing
Conversational Marketing
Conversion Rate Optimization
Data Science & Big Data
Email Marketing
Geo-Targeting & Proximity Marketing
Growth Hacking
Inbound & Outbound Marketing
Influencer Marketing
Mobile Marketing
Native & Contextual Advertising
Omnichannel Marketing
Paid Search Marketing
Personalization & Privacy
Podcast & Webinar Marketing
PR & Cause Marketing
Predictive Analytics & Attribution
Programmatic Advertising
Sales & Marketing Automation
Search Engine Optimization
Shopper Marketing
Smarketing & Customer Experience
Social Commerce
Social Media Marketing
UI / UX Design
User-Generated Content
Video Marketing
Viral & Buzz Marketing
Visual & Voice Search
Web Analytics
Get Ready To Be
Inspired: Get inspired by the headlining speakers at DigiMarCon London 2023. These remarkable individuals will motivate, engage, enlighten, and spur you on to greater productivity.
Challenged: Listen to bold and powerful addresses from a diverse group of exciting and influential people. These riveting presentations will educate, challenge, and impress you in less than 20 minutes.
Transformed: Explore big ideas presented directly from the innovators and thought leaders of the changing business world. These thought-provoking presentations are designed to help you transform your organization, your business, and yourself
Learn From The Experts
Experts: Digital marketing, media, and advertising professionals will teach you the principles and skills of digital marketing – from basic to advanced – to improve and transform your business utilizing the latest digital marketing techniques.
Stories: Hear success stories from businesses that have successfully implemented these digital marketing techniques and solutions. These case studies will profile several companies and industries that have leveraged digital marketing to drive remarkable success in their industries
Achieve Digital Marketing Success
At DigiMarCon London 2023, you will receive all the elements you need to achieve digital marketing, media and advertising success! Awesome keynotes, expert panels, plus solutions providers and their tools for digital marketing – all in a dynamic, community-based setting. Conventional thought will be challenged, new ways of thinking will emerge, and you will leave with your head, notebooks and professional toolkit full of action items and ideas to lead and supercharge your agency / team / account to even greater success. With plenty of networking opportunities, it is the perfect place to build a professional network, find business partners, generate new ideas, learn and grow.