Reinventing HR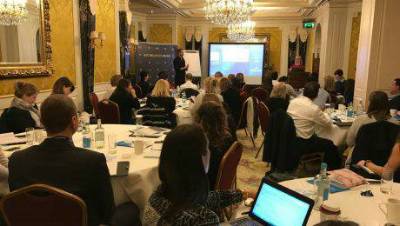 Now running for the 9th year, the much anticipated Annual Reinventing HR Summit, will be held in London, 10-11 November 2022.
This two-day International event is structured and balanced to allow for a series of interesting workshops and case studies, offering new strategies and fresh thinking, supplemented by discussions of research, theory and insightful debate. The event is always carefully programmed, with engaging speakers and practical, applicable knowledge sharing.
Attendees will learn:
The Power of the Employee Experience- learn from best practice, future-focused thinking and research
The Ethical Organisation- take away bespoke Initiatives and measurements to put into place
Building Your Employer Brand to Be Employer of Choice
The Neuroscience Behind Effective and Lasting Corporate Culture Transformation and Employee Mental Wellbeing
From Talent Management to Talent experience and much more
Programme
The key focus of the Reinventing HR in 2020 is Leading with Employee Experience and Neuroscience Behind Effective & lasting Corporate Culture transformation. Back In 2017, Forbes named creating a compelling Employee Experience (EX) as the No 1 HR trend. And yet, the reality is that most organisations do nothing more than pay lip service to employees being their best asset. According to 2018 Gallup figures, only 15% of employees worldwide feel engaged in their work, leading to the global costs of unproductivity at a staggering $7 trillion. Something has to change. And you can lead this change.
Here are just a few of the highlights from the 2022 Summit agenda:
New workplace needs a new HR!
"One foot in the past and one foot in the present is no way to drive new thinking and curiosity about what might be possible",the event will tempt you to set your feet at the jumping off point of creativity, with one foot in the present and the other in the future. So, let's not cut and paste old solutions, but innovate and create, and become the authors of our own future.
Driving Business Productivity and Shaping the Workplace of the Future
A number of forces are coming together that mean that the workforce of the future is unlikely to be sitting in an office together, but distributed and more transient. The speaker will explore how these changes will impact the way that we communicate to our employees, and share a case study from OVO Energy on how communication closed the strategy execution gap and led to a ?3m annual increase in productivity
A Strategic Approach to Growth Mindset
With constant change and new developments, employees need to be able to respond and adapt with agility and still have the drive to succeed for the health of the business. Organizations need to understand how they can inspire and develop employees and teams to harvest the advantages of this. This event will explore how HR can inspire certain behaviours which will improve performance and drive innovation in organizations.
Exploring Neuroscience: Effective and Lasting Corporate Culture Transformation and Employee Mental Wellbeing
Understanding how behaviour originates in the brain is imperative for leaders and for those of us wishing to build strong, sustainable relationships in order to successfully engage others during change and culture transformation. What we now know about the neuroscience of threat and reward, psychological safety, mindset and social pain has huge implications for our lives, both personally and professionally. By sharpening our knowledge of neuroscience and its application in a business context, we are better equipped to minimize the detrimental impacts of stress and create teams and work environments where performance, engagement and wellbeing are optimized.
Inclusion and Diversity in The New World of Work
How is your organization perceived, both internally and externally, regarding inclusion and diversity? Do your employees, from entry to senior level, truly embrace a culture of inclusion and fully understand what Diversity & Inclusion means?
The WHAT and the HOW of the Digital HR Strategy
Building a digital strategy within HR. How can HR help build a digital roadmap for the whole organization?
Building Better HR Departments
How HR can implement people-centric approaches which create value, not just supporting businesses but enabling them to set new or more stretching business goals.
Why Join?
This is a valuable opportunity to get out the office and air your biggest concerns: the three-day Summit offers masterclasses, workshops and case studies delivered by some of the truly inspirational HR leaders exploring the challenges and the future of the HR from a different angle, very much in tune with uncertain Politics and Economy, while tapping deeper into the neuroscience of human behaviour.
Thursday Nov 10, 2022 to Friday Nov 11, 2022