Maximising Your Recruiting Potential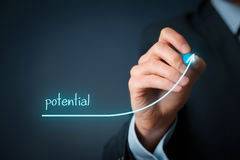 Now that we are several weeks into the New Year, you may have already devised and implemented a personal development plan to help maximise your potential this year. For those of you that haven't, it's not too late to brush away the cobwebs, forget any indiscretions, and drive forward this year with renewed vigour.
Fortunately for recruiters, the beginning of the year brings with it a new wave of clients eager to fulfil their hiring needs, and candidates with fresh career resolutions. To help maximise your potential throughout this year you'll need to regroup, focus, and create a game plan. With that in mind we've put some tips together to help you increase your billings, boost your motivation, and supercharge your productivity.
Start by getting into the right frame of mind
Success is largely based on your frame of mind. If you're feeling negative or downbeat, that will invariably come across in your daily practice. See this year as an opportunity to start afresh. To smash your targets, you'll need to look at arguably the hardest part of recruiting, prospecting for clients, in a new light.
Firstly, you'll need to accept that a lot of companies you talk to aren't ready to buy from you.... yet! You're in this for the long game, and building up rapport and trust are the first stages to getting new clients on board.
Secondly, take the pressure off! You don't have to be perfect all the time. As long as you are honest, work hard, and deliver on your promises, you'll do just fine. Remove that unenviable performance anxiety and you'll be surprised at how well you actually perform.
Thirdly, to help you craft the right frame of mind you'll need to reframe 'rejection'. A potential client might say 'no', but that doesn't mean you should see this as a rejection. See this as learned knowledge of your prospect. Find out more about their desires so you can deliver what they need in the future. Changing what you define as 'rejection' is key to helping you view each interaction as one step forward, rather than two steps back. With this new positive outlook you'll be able to see canvassing in a whole new light, and in turn bag more clients. Just make sure you look after them once you have them on the books!
Set some personal goals
Goals give you something to aim for, as well as providing a benchmark to help you assess your progress throughout the year. With goals to drive you forward, you'll have a much better chance of success.
What do you need to do this year? Do you need to start picking up the phone more? If so, set a specific target for the amount of time you spend prospecting a week. Set milestones throughout the year to help you keep focused i.e. to have gained a certain number of new clients by the end of the 1st quarter. You could even pinpoint some specific people whom you want to connect with. Getting these personal goals set out at the beginning of the year will give you the impetus to keep moving forward.
Create a positive working environment
After a busy year it's easy to let your desk get into an unmanageable state. If you haven't already, clearing your desk and organising your files can do wonders for your productivity, not to mention showing to your superiors that you mean business.
Network your way to success
Networking is the foundation of any successful recruiter. Whether you're looking to expand within your current field or hoping to move into a new one, networking will help you get there. Make a concerted effort to know about networking events and those relevant to your niche. By planning out your event calendar early on, you can ensure that you don't miss out on any chances to meet people of interest. You'll also find that by being at relevant events, you'll become more aware of other events going on. Before long you'll be a known entity and potential clients will look forward to seeing you at the next event.
Pinpoint your weaknesses and training needs
Self-awareness is essential if you want to progress as a recruiter. Some recruiters inherently know what their weaknesses are, whilst some need a little point in the right direction. If you're the latter, ask your colleagues or manager for some feedback. It can be easier for others to see where improvements are needed, and in all honesty, it is often those recruiters that aren't afraid to ask for advice that become top billers.
Perhaps you might need some social media training? If so, avail yourself of the bountiful resources online or pay for some one-to-one training. On the other hand, maybe you need to improve your cold calling. If that's the case, identify a peer that can help to improve your practice. Whatever your training needs, don't rest on your laurels; this is the perfect time to start your learning journey.
If you haven't already, introduce recruiting data into your life
If you can measure it, you can manage and improve upon it. If there's one thing that you should start doing this year, it should be tracking your own performance data. Whilst it can be daunting at first, knowing how you're performing is the first step to improving as a recruiter. Be sure to track speed metrics such as 'time to fill', 'time to accept', 'time to start' etc. as well as quality metrics such as hiring manager satisfaction, and productivity metrics such as 'source of hire' and 'source of application'. Over time you'll work out what metrics work best for you, and more importantly where you need to focus your efforts to help you develop.
Final thoughts
The beginning of the year is the perfect time for a little introspection. Use this period to take a step back, before you drive forward with a plan that helps you remain focused and motivated this year. By understanding where you are, knowing where you want to be, and having a plan of how you are going to get there, you're far more likely to achieve career success in 2016!
Looking to boost your career prospects?
Hopefully these insights will help you to achieve more success this year. Should you decide that joining a different recruitment agency is also something you need to take care of to fulfil your potential, do reach out and we'd be delighted to help. If you'd like to have a confidential chat about your options and your marketability, simply give us a call today on +44 (0)203 463 8653.